What to expect from professional service movers
In this article, we will talk about what you should expect and request as a customer when hiring and receiving a professional service during your move.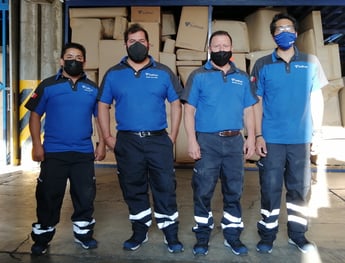 1.
Expect a process with an order, quality and punctuality from the moving service.
Professional moving services are dedicated to transporting all your belongings from the origin to your new destination, being careful during the move in a safe and efficient way. These companies must be characterized by their logistics focused on the execution of the service, maintaining a systematic methodology, which can facilitate the entire process, from packing and transporting the household goods, to the unpacking and accommodation into the new space.

2. Before the service personnel arrive, make sure you have your house organized and clean.
Take into account that the service doesn't include ordering your house or separating your items by categories, so you must have everything clean and tidy before the move begins in order to make this process more efficient and faster. The following is recommended:
Organize and assort small items in boxes to prevent them from getting lost.

NOTE: Put heavy objects in small boxes to facilitate carrying and loading the move.

Separate and specify clearly when labeling your fragile or valuable belongings.
Take the opportunity to clean up! You can throw away the items that don't work anymore or donate things you no longer need.


It's not recommended to accumulate and carry these items with you as they can take up space on the truck and increase service costs.
✔ A smart tip is to write down the destination location in your boxes.

3. The proper packaging
A quality moving service knows how to properly pack each item, be it clothes, dishes or more delicate objects. They have the responsibility of keeping the most special and fragile belongings in perfect condition. One way to ensure that they're an experienced company is with the materials they use.
An example of a material that these companies usually use is bubble wrap, foam padding, or polystyrene beads to fill empty spaces.

4. Techniques to care for your household goods: disassemble, wrap, pack and reassemble.
One of the benefits of hiring a service is that the staff has specific techniques to properly wrap and transport each type of household item, from furniture to appliances.
A quality moving service will take care of disassembling the furniture that requires it, to transport them conveniently; They'll even know if they should be padded in a certain way, depending on the fragility of the piece, and then put everything back together when they arrive at the destination.
✔ Keep in mind that a mover's service mostly charges by time, so you should consider whether you prefer to disassemble and assemble furniture on your own in order to save money.

5. A professional service knows how to pack and accommodate your belongings inside the truck.

A mover's service is methodical, keeping order in terms of space arrangement and packing by room to speed up unpacking; however, the boxes may be mixed up during placement in the truck, so that everything fits together and space is not wasted.
If the boxes are arranged incorrectly in the transport, it can cause too much movement on the way. That is why the accommodation is considered as a key factor so that your belongings are not damaged.
Professional staff will know that packing tight is not about saving space or time, but about keeping your things safe, as well as your trust.

6. Make sure the service offers insurance for your household goods.
A professional service is usually responsible for any damage that your belongings may suffer during the move. Either way, make sure that the company you hire offers transport insurance and the guarantee that any damage caused to your household goods will be paid for.
✔ It's possible that the insurance or guarantee has an extra cost, so we recommend to well review the contract.

7. The staff has a record or list of all the things they pack.
The experienced and professional staff that you hire will count each box and object that is part of the move, in order to give you assurance and security that each of your belongings is safe and registered. This is great support, as it's very common to forget something during this process.
It's important to check the inventory of your items yourself, and if the company doesn't carry out this task, it's recommended to do it on your own to have better control of the move.

8. Remember that a move takes time (even for a professional service)

Moving can be a long and complicated process, even by hiring a specialized service that streamlines each task, it can take longer than expected.
✔ A professional service must be trained to carry out the move quickly and efficiently; however, you must understand that any move may experience setbacks. It all depends on the distance, the size of your old and new house, the number of belongings to move and, of course, the budget you have for the number of transport units and personnel you require.


9. Expect and demand a safe, flexible and experienced service.
A complete moving service should be able to adjust to your specific needs, even with a certain budget, and make this process easier and more friendly.
If you decide to hire a company to support you during your move, don't forget the following points:
Keep in mind that their job specializes in performing each task no matter how complex it may be, from packing to loading all the belongings to the corresponding place.
The professional staff will surely ask you questions about your specific needs, try to be as clear as possible. Give them accurate information and guide them to avoid any damage along the way.
Have confidence in their experience so that they care for and properly handle your assets.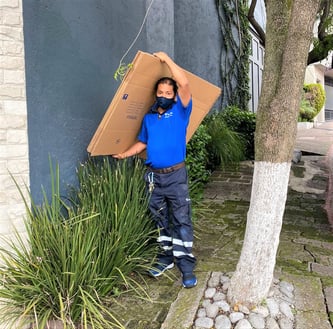 Remember that a specialized mover's company knows that it can be an overwhelming experience, so it must make you feel safe, guide you, and offer you a service that meets your expectations.