The way a professional movers service should pack every item
We know that a move can be stressful and complicated. Even when you hire a professional company dedicated to facilitating this process, there is always a concern that your belongings will get lost or damaged during the move.

That is why we believe that being prepared and knowing what to expect from a mover's service is the way to ensure that everything arrives correctly in your new home. Because of this, we share this article from our experience, where you will know the procedure that professionals commonly use to pack each type of object or belonging.

Before we begin, these are the most common materials used for packaging: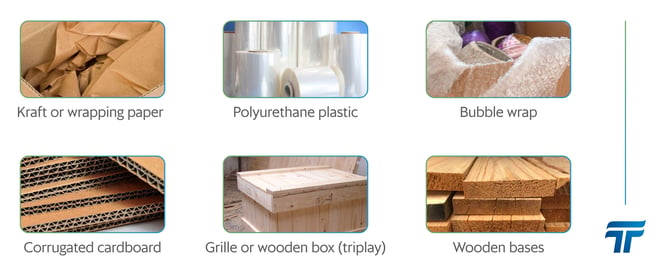 CLICK HERE and learn everything a client should expect when hiring a professional moving service.



Moving companies generally pack each piece of furniture according to its outline, wrapping it with layers of Kraft paper and then with corrugated cardboard. Depending on how delicate or valuable the furniture is, or if the customer were to request it, a layer of bubble wrap or some type of fabric could be added before the kraft paper.
If it's a very fragile piece of furniture with crystal or glass, antiques, pianos and musical instruments, or with a very irregular outline, professionals may take more care when packaging, placing the furniture inside a customized box (usually made of wood).


Professionals should pack each painting individually with a layer of kraft paper, bubble wrap and/or corrugated cardboard to prevent scratches or damage. Then they can gather groups of 2 or more paintings to put them in wooden boxes. The most delicate paintings will surely be packed in a separate box.


Objects made of glass, porcelain, ceramics, framed photographs, or any other smaller fragile items should be packed individually with layers of white paper and bubble wrap, and then placed inside wooden boxes (usually triplay wood), arranged in such a way that they don't collide with each other during the move.


Kitchen items and other objects or ornaments that are not fragile such as wood, metal or non-delicate materials are covered with the layers of wrapping paper that the piece requires, and are normally placed in cardboard boxes of varied use or barrels depending on the size of each one.


Larger fragile items such as vases, glass table covers, ceramic or Lladró figures, among others, are wrapped with wrapping paper and one or several layers of bubble wrap, depending on what the item requires. Professionals then usually place these pieces in wooden boxes at the item's size, protecting it inside with filling material.



Generally, the hired service receives the clothes, towels, or linens already ordered and they're placed in different kinds of cardboard boxes. However, for those clothes that require special treatment such as dresses, coats or suits, packers usually place them on hooks inside hanging or flat wardrobe cardboard boxes.


Books, documents and folders are placed in cardboard boxes, always taking into account the appropriate weight. Also, objects such as compact discs, acetate discs, cassettes, stationery or pantry items and small but heavier items can be placed protected with layers of wrapping paper in cardboard boxes.


As for carpets, rugs, tapestries or other similar items, a professional service would take care of rolling them and wrapping them in layers of kraft paper or corrugated cardboard to protect the material or fabric.


Tools such as wrenches, screws, nuts, bolts and all the small parts that were disassembled from the different furniture must be wrapped in paper or plastic bags, identifying their corresponding furniture. Professionals usually place these plastic bags in a separate box that's intended only for small pieces, noting them on the packing list with their corresponding furniture or appliance.



For electronic equipment and appliances, what helps a lot in the process is to use the original boxes or packaging material of each item, of course, if the client has kept it. This way the mover's service should only reinforce the protection with the common packaging material. Otherwise, these belongings should be packed with Kraft paper, then wrapped with a layer of bubble wrap, and finally with corrugated cardboard.

Usually, the company determines a group leader of those who pack the move, this being the person who decides how many layers and the type of material they should use in each appliance or piece of furniture. If the device or appliance is very fragile, bulky, or excessively heavy, professionals could spend time building a wooden grille or box (this will be at the discretion of the person in charge or also at the prior request of the client).
The moving service is usually responsible for removing and packing the batteries of controls and devices separately, taking a record of the brand, model and/or serial number of each appliance to avoid loss or confusion. Also, for this particular process, it may help to take pictures before packing the item, which is exemplified in the following video.

Finally, be sure to specify your delicate or fragile belongings to the moving service so that they take special care of them. We also recommend asking them all the questions you think necessary.