How to organize and pack your things for a move (Part II)
In this second part of the article we share and recommend the following actions to be able to enjoy a worry-free move.

Visit the 1st part of the article where we show you the first steps to follow to organize and pack a move efficiently.


Steps to follow to organize and pack a move effectively
Parte ll.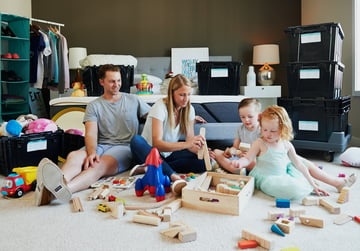 Tips for packing neatly and efficiently
1. Divide the spaces of your current residence to pack
You can select an area where you dedicate yourself to packing, and leave the boxes and necessary materials for labeling ready.
When you finish a box, you can seal it with tape and label it with the name that belongs to it. It can even be useful to number them to keep in mind how many boxes will go when you move.


2. Start packing!
Be careful to wrap each object with as many layers of plastic, clothing, or paper, as you feel, are sufficient. Pay special attention when wrapping fragile items.

Try to favorably arrange the objects inside the boxes. The heaviest objects to the bottom, to place the light pieces on top.
Remember not to overload the boxes, to prevent them from breaking and use newspaper to fill in the empty spaces.
To learn and distinguish how to pack each type of belonging during a move, click here and visit our article!


3. Distribute each room in its corresponding boxes

This facilitates the unpacking process, immediately identifying which boxes are for which particular room. To maintain order, we advise you to pack room by room.


4. Code and label each bag and box
Label the boxes according to their content, being fragile or resistant, and indicate which room or space each one belongs to, you can even determine the quickness with which certain boxes must be unpacked. It is important to label them clearly and specifically, and then seal them with tape.
* For the bags, you can add a note inside that helps to easily identify its content.


5. Disassemble and pack large items
If it's necessary to disassemble large objects or electronic equipment, put all the parts in separate bags and collect them in a box. Also, keep the tools in the same place to make it easier to put everything back together once you've moved.


6. As you clean each space, clean your new home!
Take the opportunity to clean and pack only what you want in your life, getting rid of everything you don't really need.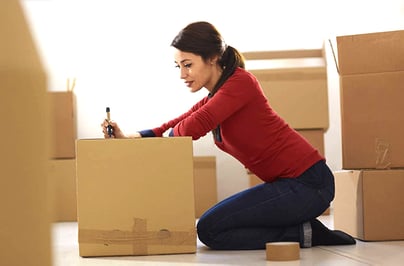 To finish...
1. Pack last the box you need to open first
When you're almost done, pack all the things you'll probably still need, even on the day you move. It is always useful to list what you need for daily tasks, such as dish detergent, towels or toilet paper.


2. Place the sealed boxes in a room
When you finish loading each box and have sealed and labeled them properly, you can select an empty space and, if possible, close to the exit, to accumulate them. In this way, you will simplify the process of loading your move to the vehicle.


3. Lastly, check each room.
Remember to check your house after you have loaded everything into the moving trucks. Make sure you haven't forgotten anything and that each space is empty.


We hope that this sequence of steps and tasks to follow will help you better organize your time and activities, in order to turn what can be a difficult and worrying process into a stress-free move.
---